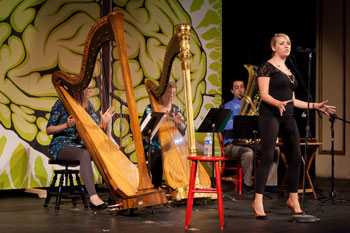 "The new EP sounds like a cross between chamber music and an 'indie' release you might hear on an alternative radio station."

Dave Howell, The Morning Call
Photo credit: Adam Mason & TEDx Phoenixville
Coming up! The Wittchen Initiative will be presenting a concert of originals, jazz standards and favorite covers at Atonement Lutheran Church on Saturday, March 16th at 7:30 p.m. Don't miss this fun, free show in the Reading, PA area!
The Wittchen Initiative has been captivating audiences with their unique brand of indie chamber pop since 2008. Be the first one on your block to own The Wittchen Initiative's EP (Unrequitable) of original tunes for harps, tuba and voice!
Visit the media page to preview the CD and check out our video of TEDxPhoenixville,and go to the recordings page if you'd like to order your own copy for only $8 through PayPal. And, of course, check back often for new audio clips, upcoming performance dates and swell pictures.
If you like what you hear, become a fan and spread the word through Facebook, Twitter, ReverbNation, or MySpace. Or join our mailing list below to receive the latest news directly to your inbox! For booking information, please send us an e-mail.
Sometimes you don't realize you're missing something in your life until you hear it. This may just be one of those things.