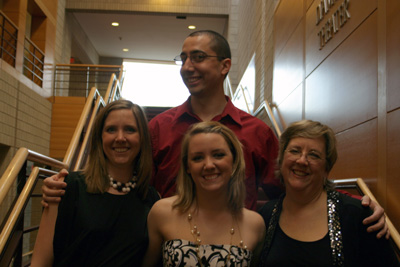 The Wittchen Initiative debuted in early 2008, almost a year after the three Wittchen women put their heads together and brainstormed how they might all be able to perform together. After a friend suggested they perform at his bi-annual winter party, the ladies quickly added Dan Nosheny, aka TubaDan, to their roster and began arranging tunes that run the gamut from jazz standards to country to pop and hard rock.
After the solid success of their private performances in the Spring of 2008, the band gave their first public performance in September 2008 to an enthusiastic crowd at the Old Moravian Chapel in Bethlehem, PA. Since then, they have performed at a variety of venues throughout Southeastern Pennsylvania. In March 2010, they headlined at the Mid-Atlantic Regional Harp Conference in Alexandria, VA.
The band's mission is to surprise audiences by the harp's versatility beyond traditional music genres. To that end, they have created arrangements of an eclectic mix of tunes that run the gamut from jazz standards to country, pop, Broadway and hard rock. Their first CD was released in November 2009. Most recently they've been working on writing and arranging original works that can spark a revolution in what the harp can deliver – acoustically, amplified, or altered. Their EP, Unrequitable, includes all original tunes written and arranged by the band and is available through iTunes and the recordings page.
Harpist Andrea Wittchen holds a B.M. degree in harp performance from Jacksonville (FL) University and an M.M. degree in harp performance from the Eastman School of Music. She teaches harp at Lehigh University and Moravian College in Bethlehem, PA as well as maintaining a private studio. For more than 30 years she has performed as soloist or orchestra musician with most of the professional performing groups in eastern Pennsylvania.
Harpist Samantha Wittchen attended Eastman as a harp major where she studied with Kathleen Bride before completing a B.S. degree in mechanical engineering at the University of Virginia. She teaches harp at the University of Pennsylvania and maintains a private studio in Philadelphia. Samantha freelances in the Philadelphia area and has performed with numerous regional orchestras, as well as studio orchestras for such recording artists as McCoy Tyner, Olivia Newton-John and Connie Francis and popular touring shows like Video Games Live and A Salute to Vienna. She also appeared playing her harp in the 2009 movie, Law Abiding Citizen.
Vocalist Alexandra Wittchen, a graduate of Temple University, is a veteran of the musical theater stage. Alex has studied voice with Brian Stokes Mitchell, Charles Walker and Wayne Sanders and currently works as Digital Media Analyst at Fame House, a digital marketing firm in Philadelphia.
Tubist, trombonist, accordionist and toy piano aficionado Dan Nosheny holds a B.M. degree in tuba and music education from the Eastman School of Music. A freelancer in the NewYork/Philadelphia area, he previously toured with Maggi, Pierce and EJ as well as the seminal rock band The Violent Femmes. Dan can also be found performing as Neon and Shy. In 2011, he embarked on a project release one new song per month, which culminated in the release of his first solo album, I Don't Want to Be Your Friend.